---
| HOME |
Noobeed is a language-based software, specially designed for solving problems in Geomatics and related fields. It is designed to be a single piece of software that covers most basic activities in all areas of Geomatics, including Surveying, Photogrammetry, Geodesy, Remote Sensing, Image Processing, Spatial Modeling, GIS and Mapping.
The reasons to create Noobeed is there is the lack of Geomatics software that:
<![if !supportLists]>1. <![endif]>is a language-based interface software,
<![if !supportLists]>2. <![endif]>is an object oriented language with built-in Geomatic objects, and
<![if !supportLists]>3. <![endif]>is interactive.
At the time of writing this, most currently available software are graphic-based interface. It may be very convenient and comfortable. The user just uses a pointing device to point and click on the screen when performing a task. However, the graphic interface can not completely take over the classical language interface.
In fact, graphic interface is contradicted to the way people communicate to each other in real life.
Imagine how inefficient it would be if communication has to be done by hand only. In other words, it will be so difficult if in the nature people can only communicate to each other by just pointing, and not speaking.
Cited from an encyclopedia (World book, 1994), "Wherever there is human society, there is language", clearly tells that how much important people have to have language. Language is by far the most efficient way to communicate among people.
There is definitely a lack of good language-based software for Geomatics. While most of them do not offer programming capability, few of them do have a capability to program by a language, however, the language is not well designed enough, for example it is not interactive, not use object oriented language technology, not provide user-defined functions etc. The most essential thing is they are not comprehensive enough to cover all areas of Geomatics.
Whether or not the lack is the need, is something that Noobeed is going to find out.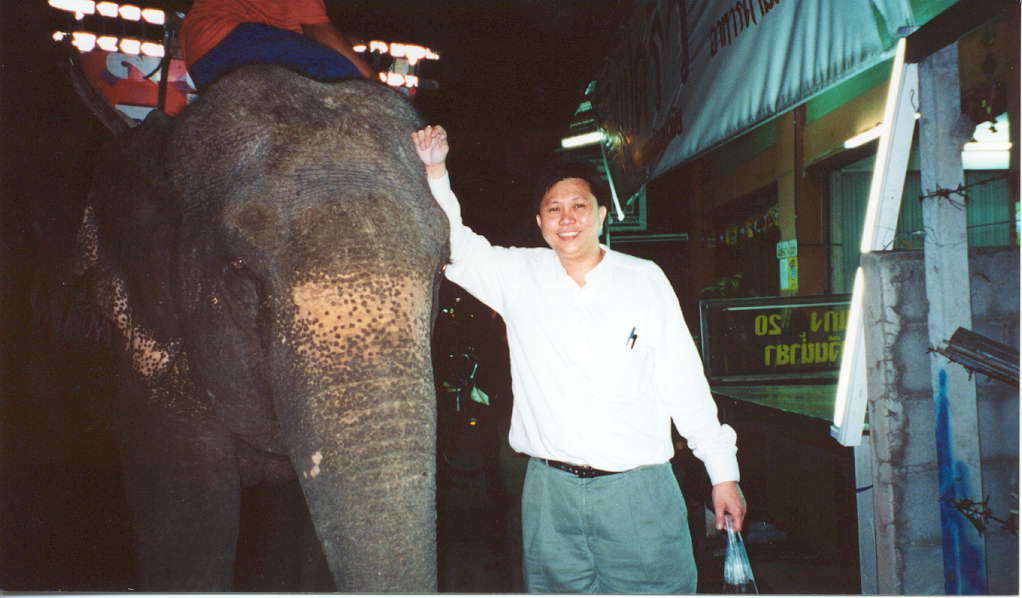 A Photo of Dr. Deeboon with a young elephant in Thailand
The development of Noobeed started in autumn 1998 and was led by Dr. Deeboon Methakullachat, a photogrammetry professional who has been working in the field of photogrammetry, surveying, remote sensing, spatial data modeling, mapping and GIS for more than 20 years. He has a diploma in photogrammetry from ITC (the Netherlands), an M.Sc. in Surveying and Mapping from Curtin University of Technology (Australia) and a Ph.D. in geodetic science from the Ohio State (USA). The development lasted for three years, and the first version of Noobeed was made available to the public on September, 15, 2001.
Although Noobeed can be used just as well as a general purpose computer language, the main goal of Noobeed is to offer a specific usable language-based tool that can be effectively used right away by Geomatic professionals and researchers. The object oriented language was selected because it fits well to the purpose. Available built-in classed, or objects, will help users reduce time in the development of basic functions, and have more time to concentrate on the problems, while the nature of being a computer language will let users create various kinds of applications to suite their areas of interests.
More importantly, the second goal of Noobeed is to offer to the spatial science community the real tangible most affordable product, especially in the areas of education and research. It is true that there are a number of "lite-version" software with a cheaper price, even free software, available in the market. However, they may not fully functional in the same way as their full version does. In fact, this is a kind of marketing strategy plan to make people get use to a specific product, whose real price may be much higher.
Students may get disappointed and frustrated once they graduate and become professionals, and know that the price of a workable copy of software that they have learned at school is prohibitive. By introducing Noobeed as an alternative learning tool, an institute can be sure that students have learned and exposed professional Geomatics software that is What-You-Learn-Is-What-You-Can-Buy.
Noobeed's dream is to promote spatial science knowledge to everyone including individual. We belief that handling and utilizing spatial data should not be confined to enterprises with high-end powerful computers and expensive software. Small companies and individual should be able to access spatial analysis software just as general as access to word processor or spread sheet software.
Noobeed is another alternative tool that will furnish the spatial information science community. It is also hoped that the demonstration of an interactive Geomatic object oriented language concept might be as well useful for other disciplines.
September, 2001
---
| HOME |